Ralph Fiennes and Tilda Swinton in 'A Bigger Splash'. Twentieth Century Fox Film
'A BIGGER SPLASH' by Luca Guadagnino
Luca Guadagnino is one of my favourite directors. He is a magician of cinema. He has that kind of sensitivity which is very close to my heart.
In his films, he creates his own universe, which I totally admire. The way he connects all of the elements of it is just phenomenal. His characters are magnifying, the stories are thrilling, and the way he tells them- one of a kind. His provides everything that I expect from a good film, and much more.
A famous rock star Marianne (Tilda Swinton) and her boyfriend Paul (Matthias Schoenaerts) are spending their holidays on the sunny Italian island Pantelleria. They both are healing after some traumatic experiences. Their serenity is interrupted by an old friend (and Marianne's ex-lover) Harry (Ralph Fiennes) and his daughter (Dakota Johnson).
A temporarily silent Marianne, sincere and wounded Paul, sensual Penelope and a laud exhibitionist Harry are stuck with each other in a breathtaking Italian villa. The dynamics between this quartet is unusual, and the chemistry between them changes as the story develops. Luca builds up emotions fantastically.
Don't miss it! It ia a great, great film.
Eryk Lubos and Magdalena Boczarska in 'The Art of Loving'. Photo: Jarosław Sosiński / Watchout Productions
'THE ART OF LOVING ' by Maria Sadowska
It is a beautifully told story of Michalina Wioslocka's life. Wislocka was a Polish sexologist, gynaecologist and an author of the famous 'The Art of Loving' (or 'A Practical Guide to Marital Bliss'), the first ever sex manual published in communist countries.

Michalina Wislocka was well ahead of her time, and she has revolutionised sexual lives of millions of Poles. She brought some colour, some excitement, some passion, freedom and taste to their boring and one-coloured world. She emphasised the importance of women's orgasms and sexual satisfaction.
Her personal life, though, was unconventional, and rather complicated.
'The Art of Loving' is a good film, very well acted and written.
PS check out the soundtrack created by Jimek (Radzimir Debski). It's
phenomenal!
You can watch it on Netflix.
''13 Reasons Why' 2 official poster.
'13 Reasons Why' 2
'13 reasons why' isn't the best series Netflix has ever created, but after watching the first season last year, I was excited to see the continuation of the story.
The show is about Hannah (Katherine Langford)- a young, beautiful girl, who commits suicide and instead of writing a goodbye letter, records a few tapes and explains the reasons behind her decision.

In the first season we get to listen to the tapes and know the people who were the reasons why she took her own life, and in the second season, we see how these tapes have affected lives of her schoolmates and her family.
I believe that everybody should watch this show to realise/ remind how important it is to listen to what others say, communicate with people the right way, to respect them and think twice before we hurt somebody with words. So many people are suicidal, so many decide to take their own lives, yet not many of us actually talk about it openly.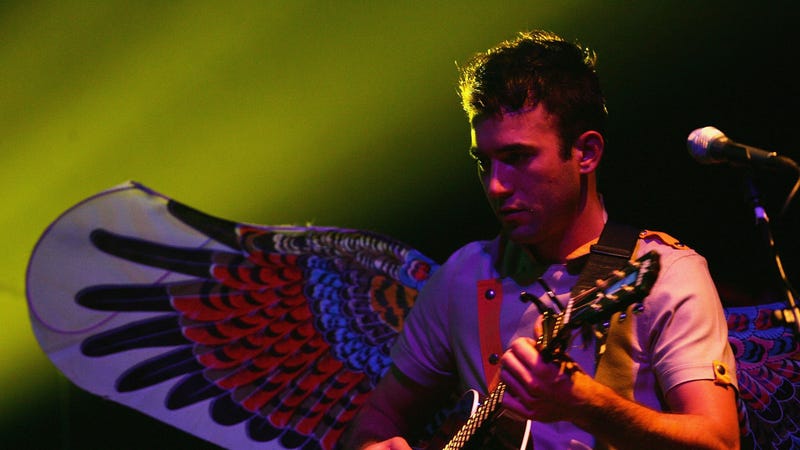 Sufjan Stevens. Photo: Getty Images, Karl Walter
Sufjan Stevens
I know that it is probably getting boring for you all now, but I just can not stop listening to Sufjan! In the past two months, I have played on repeat: 'Visions of Gideon', 'Romulus', 'Chicago', 'Should Have Known Better', 'Casimir Pulaski Day' and 'Death with Dignity'.
His music is just unbelievably beautiful and touching.
More about Sufjan here, and here.
You can listen to his music on his official website.
What are your current favourites? Let me know in the comments section.
Thanks for reading! x